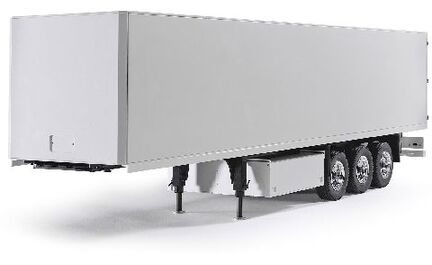 Carson boks trailer
4.300,00 kr.
Varenummer: 377
The box trailer for real truckers!
The white 3-axle box semi-trailer is ideal for supplementing Tamiya and other 1:14 scale tractors. The kit reproduces the prototype in detail. Air spring dummies on all three axles, spare wheel holder with a spare wheel, pallet box with pallets and a double-sided underrun protection are perfectly reproduced. The bumper has rubber bumpers and the 7-chamber tail lights and license plate holder are optionally illuminated. The chrome-plated wheels are double-ball bearings and the semi-trailer supports manually height-adjustable.
Delivery:
Semitrailer in white and construction manual
Safety note:
Not suitable for children under 14 years. The packaging must be kept as it contains important information. The illustrations may differ from the product in the package. CARSON reserves the right to make improvements and changes at any time.
Technical details:
Semi-trailer box made of white polystyrene plates
Chassis made of CNC machined aluminum
Doors of the rear wall can be swiveled 270 °
Semitrailers mechanically adjustable
Air spring dummies on all 3 axes
Semitrailer wide tires on double ball-bearing chrome rims (including 1 spare wheel)
7-chamber tail lights and license plate holder electrically illuminated
Rubber buffers on bumper and doors
Pallet box with 6 pallets
Spare wheel holder (including spare wheel) and cover plate made of white PS plastic, CNC milled
Technical specifications:
Scale 1:14
Length 990 mm
Width 195 mm
Height 292 mm
Tire diameter 82 mm
Tire width 25 mm
Weight 7200 g
Leverings tid 4-6 hverdage.