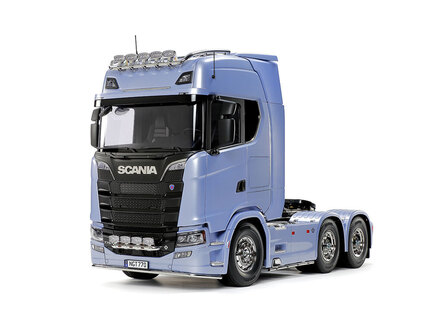 Scania 770 S "Next gen" 6x4
3.500,00 kr.
Varenummer: 340
Husk lejer (Vare nr. 776)

1/14 R/C Scania 770 S 6x4
Tamiya welcomes a new addition to 1/14 Tractor Truck Series – this time, the Scania 770 S 6x4 produced by the Swedish manufacturer Scania.
The Scania 770 S 6x4 is one of the trailer heads in the Scania's top-grade S Series – which had undergone a full model change in 2016. This trailer head features a double rear-axle drive 6x4 chassis equipped with a 16.4-liter V8 diesel turbo engine capable of 770hp which was the most powerful in the industry as of 2020.
About the model
• This is a 1/14 scale R/C model assembly kit. Length: 532mm, width: 193mm, height: 307mm.
• The model realistically depicts the Scania 770 S 6x4.
• The high-roof form is realistically captured in style with a roof bar featuring light pods, grille mini bar, low bar and side bars. LEDs (sold separately) are also attachable.
• Just like the actual vehicle, a double rear-axle 6x4 chassis features a layout of motor and transmission positioned at front.
• Ladder frame features aluminum side channels with resin cross members, and is equipped with a coupler to enable linkage with semi-trailers.
• Highly-realistic suspension utilizes metal leaf springs and friction dampers.
• Interior parts such as modern-design dashboard and seats are included.
• Assembly type 3-speed transmission allows gear changes via separately available 4-channel transmitter.